Transforming multiple
digital marketing platforms into
a single source of truth
My Roles
—
Design Lead
Research
Wireframing
User Experience
Interface Design
Description:
New Engen is a multi-channel digital marketing agency that developed a proprietary management and generation tool. The tool was initially designed for the internal team, but later the group realized the potential for the tool to become a product offering.
Challenge:
We had a launch goal for the new product of three months. The existing tool had little to no effort put into the original UX and had an even worse front end codebase. We had to rebuild it from scratch if it was going to be a customer-facing product. The tight timeline meant that I had to deliver reusable and scalable UX and UI design system patterns in a matter of weeks.
Discovery:
We interviewed current and past customers to discover pain points and growth opportunities. The interviews were also instrumental in the development of our personas. We learned that for it to be adopted, it would need to feel familiar to Google, Bing, and Facebook advertisers alike and simplify the currently complex flows. So we researched the native platforms to ensure that we understood the flows and processes users had been accustomed to. We also had to take into account the large internal New Engen team that needed to manage multiple large scale accounts.
The Approach:
We needed a lean approach that had to focus on goals and not features to hit our timeline. We did regular check-ins with the internal user base and reviewed clickable prototypes and made live updates in the review sessions. This approach sparked great conversations from users, helped align the team, and helped us weed out any unnecessary functionality. It also kept the team focused on usability.
Outcome:
In 7 months, New Engen has over 400 paying SaaS users, including Walmart, 1-800 Flowers, and Urban Outfitters.
Due to non-disclosure agreements, I've limited the screens I'm showcasing.
Ideation and research
We hosted mini design sprints with internal users who managed large and small scale client accounts. We used this time to learn their processes and understand how we could add value to them and new customers.
Architecture Planning
Bid Adjustment Ideation
Process Flows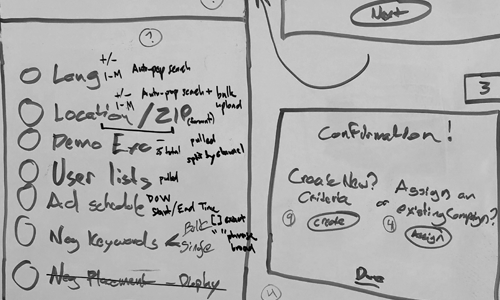 Ideation of criteria set structure and flow
Campaign wireframe ideation
Exploring workflows
Design and UX Consistancy
The design system was established as the foundational UX and UI language that would be scalable and grow with the product. The system covered everything from spacing tokens to complex table interactions. We also worked closely with the development team to make sure all the visual components converted into a reusable React component library.
The Dashboard
The dashboard allows customers to aggregate real-time performance data from their Amazon, Bing, Facebook, Google, Instagram & Shopping accounts. It also gives feedback about creative fatigue and actionable ways to improve listings.
Product Views
Because of the amount of listing content, the majority of information is housed in table views. We designed the tables with inline controls to shortcut making bid and other adjustments on the fly. We also created numerous settings and new content generation views.
Due to the confidentiality agreement I'm limiting the views that are displayed here.
"Matt Weitkamp was a pivotal member of the launch of New Engen's self-service digital advertising software platform.

As New Engen's first full-time UI/UX designer, Matt made many significant contributions paving the way for enterprise-level marketing partners to join our platform, including: (1) creating the first style guide and pattern library of systems and components used throughout the application, (2) collaborating with customers, product managers, engineers, and leadership to ideate and design v1 features, and (3) communicating tactfully and constructively with leadership and peers to accomplish day-to-day tasks.

Throughout my time working with Matt, I was impressed with his ability to work well with all members of our team, manage multiple competing priorities, and follow through to successful delivery and outcomes."

Jon Tam – Product Manager / New Engen